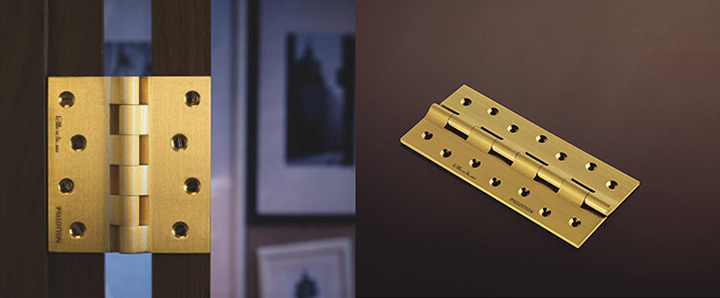 railway hinges diagram: design code | 162 -169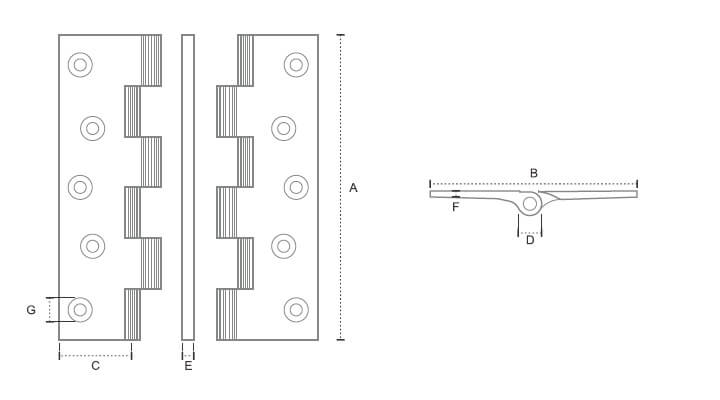 railway hinges diagram: dimensions in mm | 162 -169
CODE
NO
SIZE
M.M.
A
LENGHT
B
W/OPEN
C
WIDTH
D
BUTT DIA
E
PIN DIA
F
THICKNESS
G
C.S.K DIA
SIZE OF
SCREW
NO. OF
HOLES
162
75 X 19
75
44
19
6
3
2
8
20 X 5
6
75 X 22
75
50
22
6
3
2
8
20 X 5
6
163
75 X 22
75
52
22
8
4
3
9
25 X 8
6
100 X 22
100
52
22
8
4
3
9
25 X 8
8
125 X 22
125
52
22
8
4
3
9
25 X 8
10
164
75 X 25
75
64
25
9
4.5
3
10
35 X 8
6
100 X 25
100
64
25
9
4.5
3
10
35 X 8
8
125 X 25
125
64
25
9
4.5
3
10
35 X 8
10
150 X 25
150
64
25
9
4.5
3
10
35 X 8
10
165
75 X 28
75
70
28
10
4.5
3.5
10
35 X 8
6
100 X 28
100
70
28
10
4.5
3.5
10
35 X 8
8
125 X 28
125
70
28
10
4.5
3.5
10
35 X 8
10
150 X 28
150
70
28
10
4.5
3.5
10
35 X 8
10
166
100 X 31
100
79
31
10
4.5
4
10
35 X 9
8
125 X 31
125
79
31
10
4.5
4
10
35 X 9
10
150 X 31
150
79
31
10
4.5
4
10
35 X 9
10
167
100 X 28
100
73
28
11
4.5
4.5
10
35 X 9
8
125 X 28
125
73
28
11
4.5
4.5
10
35 X 9
10
150 X 28
150
73
28
11
4.5
4.5
10
35 X 9
10
200 X 28
200
73
28
11
4.5
4.5
10
35 X 9
14
168
100 X 38
100
94
38
12
4.5
4.5
10
35 X 9
8
125 X 38
125
94
38
12
4.5
4.5
10
35 X 9
10
150 X 38
150
94
38
12
4.5
4.5
10
35 X 9
10
200 X 38
200
94
38
12
4.5
4.5
10
35 X 9
14
169
125 X 50
125
119
50
13
5
4.5
10
35 X 9
10
150 X 50
150
119
50
13
5
4.5
10
35 X 9
10
200 X 50
200
119
50
13
5
4.5
10
35 X 9
14
*Palladium Products reserves the right to change the size & specification of it's products without prior notice.
In an endeavor to serve the travelling lifeline of many countries, Pallotton conceived the idea of manufacturing railway hinges. It soon became one of the most reliable manufacturers for hinges and then the next step was to venture in export. Because of the quality and engineering expertise, Palloton made entry in the list of top hinges exporters from India.
Engineering Marvel
Crafting hinges for railways is a responsibility and not just a business endeavor. With this focus in mind, we have to be doubly careful about everything from selecting the raw material to manufacturing process, ease of installation, etc.
Pallotton's engineering team has designed a range of hinges that fit perfectly and are easy to install. We classify our range of hinges as:
Railway smooth hinges
Railway washer hinges
Railway cut hinges
As manufacturers of railway hinges, we do not hide our engineering designs, our drawings and specifications are available for our clients and for general information. The hinges for railways require robust qualities. We, at Pallotton, ensure that our hinges are durable and can withstand high temperatures and pressures. Each of our variety has multiple variations that can be changed as per the client's preference like alternatives in the type of tip.
Revolutionary Commitments
At Palloton, we know that being manufacturers and exporters, we have to fulfill certain responsibilities and commitments. The conventional commitments are very much valid but we intend to offer you more. Besides, the usual best price policy, quality assurance, and timely delivery, we offer installation, maintenance, inspection services that make up the one-stop shop for all your railway hinges requirements.
We have been catering to clients in almost all continents and have been fulfilling their brass accessories orders. Download our product catalog for comprehensive details on the products that we create and also for information on the dimensions and other specifications. Alternatively, reach us at info@palladiumproducts.com for best quotations, samples, or queries.